Awesome Duplicate Photo Finder
Hot Tips - The Best Free Business Tool You (Probably) Don't Know About.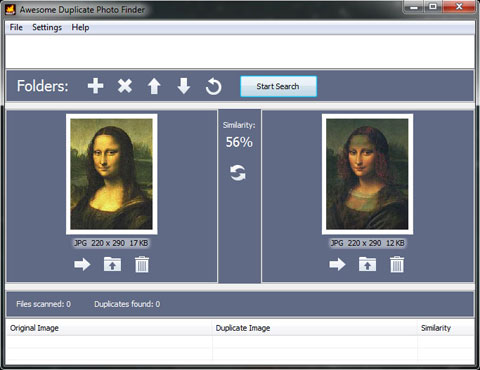 http://www.duplicate-finder.com/
Are duplicate photos eating up your hard disk space? Are they giving you a hard time organizing your photo filing system?
To give your hard disk drive some extra wiggle room while ensuring you have a clean and organized photo collection, Awesome
Duplicate Photo Finder
might be the tool you're looking for. Awesome Duplicate Photo Finder is a software that's absolutely free and can locate and remove duplicate photographs, even similar images, from your photo folders in your computer.
Awesome Duplicate Photo Finder requires no registration. It is adware-free, spyware-proof, no malware or other unwanted software.
After downloading the program into your computer, simply drag your photo folders into the folder where Awesome Duplicate Photo Finder is saved. The application should be able to compare pictures with enhanced colors and/or pictures that have been resized. It can support major image file types: PNG, BMP, JPG, GIF. Once located, you're free to do as you please with your duplicate photos.
[Via -
PickyDomains.com
]
Cool Startups - ContractGurus.Com
PickyDomains - startup that caught everyone by surprise
The (Evergrowing) List Of Cool Bootstrapping Sites
From 0 To $30,000 A Month With Dropshipping
My Name Is Beer, Mr.Beer
Off the Books: The Underground Economy of the Urban Poor
How I Increased Sales 350% With Press-Release
Daily Advice Link -
Free Logo Service